Mit den Moody Blues hatte ich immer schon ein gespanntes Verhältnis. Die Moody Blues weigerten sich nämlich wegen einer klemmenden Taste beim Pop & Blues Festival in Essen zu spielen und sie waren die Hauptattraktion! Von ihnen kam noch nicht einmal eine Entschuldigung! Im Nachhinein war das ganze Theater nur, weil sie einen Tag später einen größeren Auftritt in GB hatten, so sagt es das Gerücht.
Egal, mit großen Boxen kann man mich ködern. "Timeless Flight", das sind 11 CDs, 3 DVDs und 3 Audio DVDs in Dolby 5.1. Dazu kommt noch ein dickes Buch und etliche Kleinigkeiten für den Sammler, als da sind:
ein großes Poster mit dem Titel: "The Moody Blues – To Our Children's Children's Children",
das Notenheft von "Ride My Seesaw",
ein Sticker aus Stoff zum Annähen mit dem Hinweis auf die Box,
ein Backstagepasse zur "Autumn Tour 1973" mit Tourheft (dabei war auch die Nicky James Band)
und schließlich noch diverse Fankarten mit Fotos der Moody Blues in Hochglanz.
Die Studioalben sind sämtlich vertreten und auch massig unveröffentlichtes Material in Bild und Ton. Einiges wiederholt sich, das musste nicht unbedingt sein.
Wer das Geld übrig hat und die Moody Blues mag, der kann beruhigt zuschlagen, der Rest der Menschheit braucht die Box nicht unbedingt. Mir wären Replikas der Studialben lieber gewesen als ein Pappkarton mit durchnummerierten 12 CDs bei denen die originalen Trackfolgen nicht beachtet wurden. Ich sehe es als Geldanlage, irgendwann wird das Ding im Preis steigen… hoffe ich…
Und der Preis ist gestiegen! Gekauft 2013 für ca. 120 €, heute 2019, gibt es die Box für knapp 600€.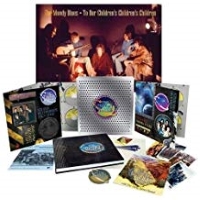 CD 1
Fly Me High
Love And Beauty
Leave This Man Alone
Cities
Dawn Is A Feeling
Peak Hour
Tuesday Afternoon
The Night: Nights In White Satin
Departure
Ride My See-Saw
The Actor
Legend Of A Mind
Voices In The Sky
The Best Way To Travel
What Am I Doing Here?
King And Queen
A Simple Game
In The Beginning
Lovely To See You
Dear Diary
Never Comes The Day
CD2
Are You Sitting Comfortably
The Dream
Have You Heard – Part One
The Voyage
Have You Heard – Part Two
Higher And Higher
Gypsy
Eternity Road
Beyond
Watching And Waiting
Question
And The Tide Rushes In
Don't You Feel Small
Dawning Is The Day
Melancholy Man
It's Up To You
Mike's Number One
Procession
The Story In Your Eyes
After You Came
One More Time To Live
CD 3
I'm Just A Singer (In A Rock And Roll Band)
New Horizons
For My Lady
You And Me
When You're A Free Man
Isn't Life Strange (Original Extended Version)
Island
Justin Hayward & John Lodge This Morning
Justin Hayward & John Lodge  Remember Me (My Friend)
Justin Hayward & John Lodge My Brother
Justin Hayward & John Lodge I Dreamed Last Night
Justin Hayward Blue Guitar
Ray Thomas From Mighty Oaks
Ray Thomas I Wish We Could Fly
The Graeme Edge Band The Tunnel
Mike Pinder Message
Mike Pinder The Promise
CD 4
Driftwood (Full Version)
Steppin' In A Slide Zone
One Step Into The Light
The Day We Meet Again
Justin Hayward Forever Autumn
The Voice
Gemini Dream (Full Version)
Reflective Smile
Veteran Cosmic Rocker
Blue World
Running Water
Sitting At The Wheel (Steven Greenberg Remix)
The Other Side Of Life
Slings And Arrows
Your Wildest Dreams
River Of Endless Love
CD 5
I Know You're Out There Somewhere
No More Lies
Isn't Life Strange
Question
Lean On Me (Tonight)
Say It With Love
Bless The Wings (That Bring You Back)
Say What You Mean
Highway
This Is The Moment
English Sunset
Sooner Or Later (Walkin' On Air)
Strange Times
The Swallow
December Snow
CD 6 – Live At The Royal Albert Hall, 1969
Gypsy
The Sunset
Dr. Livingstone I Presume
Never Comes The Day
Peak Hour
Tuesday Afternoon
Are You Sitting Comfortably?
The Dream
Have You Heard – Part One
The Voyage
Have You Heard – Part Two
Nights In White Satin
Legend Of A Mind
Ride My See Saw
CD 7 – Live At Lancaster University, 1975 als The Blue Jays. Die Blue Jays waren ein Projekt von Justin Hayward und John Lodge.
Tuesday Afternoon
You And Me
My Brother
Isn't Life Strange
Who Are You Now
New Horizons
Emily's Song
I Dreamed Last Night
Nights In White Satin
I'm Just A Singer (In A Rock And Roll Band)
Blue Guitar
When You Wake Up
Question
CD 8 – Live At Coliseum, Seattle, 1979
Steppin' In A Slide Zone
Twilight Time
The Day We Meet Again
The Story In Your Eyes
I'm Your Man
Driftwood
I'll Be Level With You
Gypsy
Survival
The Balance
Nights In White Satin
Legend Of A Mind
Question
Ride My See Saw
CD 9 – Live At The Forum, Inglewood, California, 1983
Sitting At The Wheel
Gemini Dream
Tuesday Afternoon
The Voice
Stepping In A Slide Zone
The Story In Your Eyes
Hole In The World
Painted Smile / Reflective Smile
Veteran Cosmic Rocker
Driftwood
CD 10 –  Live At The Forum, Inglewood, California, 1983
Talking Out Of Turn
Running Water
Gypsy
Isn't Life Strange
Blue World
I'm Just A Singer (In A Rock And Roll Band)
Nights In White Satin
Legend Of A Mind
Question
Ride My See Saw
CD 11 – Live At Red Rocks Ampitheatre, Colorado, 1992
The Story In Your Eyes
New Horizons
Emily's Song
Legend Of A Mind
Live At NEC, Birmingham, 1997
Gemini Dream
Tuesday Afternoon
Eternity Road
Talking Out Of Turn
I Know You're Out There Somewhere
Lean On Me (Tonight)
I'm Just A Singer (In A Rock And Roll Band)
Nights In White Satin
Question
Ride My See Saw
DVD 1
Beat Club 1968:
Nights In White Satin
BBC 2 TV Colour Me Pop: In Search Of The Lost Chord:
Departure / Ride My See Saw
Dr. Livingstone I Presume: House Of Four Doors
Voices In The Sky
The Best Way To Travel: Visions Of Paradise / The Actor
Om
It's Lulu BBC 1 TV:
Question
Promotional Film:
I'm Just A Singer (In A Rock And Roll Band)
Promotional Videos:
Steppin' In A Slide Zone
Had To Fall In Love
Driftwood
Documentairy Broadcast on BBC TV, 1979 Nationwide
DVD 2 – Live At La Taverne de Olympia
Lovely To See You
Never Comes The Day
Tortoise And The Hare
Are You Sitting Comfortably
Legend Of A Mind
Nights In White Satin
Ride My See Saw
Lazy Day
Gypsy
Candle Of Life
Tuesday Afternoon
Don't You Feel Small
Question
DVD 3
Promotional Videos:
Gemini Dream; The Voice
Sitting At The Wheel
Blue World
The Leo Sayer Show BBC 2 TV:
Justin Hayward mit Running Water
Promotional Videos:
Your Wildest Dreams
The Other Side Of Life
Running Out Of Love
I Know You're Out There Somewhere
No More Lies
Question
Say It With Love
Garden Party From Glasgow, BBC 1 TV:
Bless The Wings (That Bring You Back)
DVD 4 in 5.1 Surround Sound Version:
Days Of Future Passed
On The Threshold Of A Dream
DVD 5 in 5.1 Surround Sound Version
To Our Children's Children's Children
A Question Of Balance
DVD 6 in 5.1 Surround Sound Version
Every Good Boy Deserves Favour
Seventh Sojourn
(Visited 122 times, 1 visits today)