"Classics, Origins & Oddities" nannte Repertoire Records diese aus 4 CDs bestehende Box. Zu der kein geringerer als Pete Brown das Vorwort schrieb.
"In terms of influence, the GBO was to musicians what the Beatles were to the public.",
so ein Zitat das den Einfluss der Graham Bond Organisation auf die Musik ganz treffend beschreibt. Pete Brown hat mit Graham Bond eng zusammengearbeitet, man denke auch nur an das gemeinsame Album "Pete Brown & Graham Bond – Two Heads Are Better Than One". Es gibt die sogenannten Väter der britischen Rockmusik. Zu diesen Vätern gehören Alexis Korner, John Mayall und eben auch Graham Bond. Die Namen der in seiner Organisation versammelten Musiker sprechen für sich: Jon Hiseman, Ginger Baker, Jack Bruce, John McLaughlin oder Dick Heckstall-Smith. Die Musiker traf man später bei Cream, Colosseum oder dem Mahavishnu Orchestra.
Die Musik der Box beschäftigt sich mit den ersten Alben von Graham Bond. Der letzte Song wurde 1967 aufgenommen, der Rest in den Jahren 1963 bis 1966. Das ist natürlich nur die halbe Wahrheit der Geschichte von Graham Bond, seine ganze "mystische Phase" fehlt komplett, so auch die sehr interessanten Vertigo Alben. Die Songs sind Rhythm 'n' Blues der britischen Prägung. Durch seine jazzige Orgel schuf er einen eigenen Sound, ein Mittelding zwischen Blues, Jazz und Soul.
Die Songs wiederholen sich zum Teil, so ist zum Beispiel "Wade In The Water" gleich in 7 Versionen auf den CDs verteilt. Die Versionen unterscheiden sich durch ihre Besetzungen, in Studio und Live oder auch in verschiedenen Abmischungen.  Viele der Aufnahmen waren bis dahin unveröffentlicht. Gleich die erste CD gehört für mich zum Höhepunkt der ganzen Box. Als Mitspieler sind hier Alexis Korner und Duffy Power zu hören. Von den Songs ist der Höhepunkt die Urversion einer meiner Lieblingssongs "Walking In The Park". Colosseum machte es später nicht viel besser.
Zuerst überlegte ich mir ob sich die Anschaffung des Teils lohnen würde, zu viele Wiederholungen und nur Aufnahmen aus den Anfangsjahren, aber als Fan von Graham Bond kaufte ich dann doch. Heute bereue ich die Anschaffung nicht, zu Not gibt es ja die Skiptaste. Der von Pete Brown geschriebene Biografie ist lesenswert und man merkt, auch er war ein Fan von Graham Bond. Geeignet ist die Box für diejenigen denen die Soloalben von Jack Bruce oder dem frühen Alexis Korner gefallen.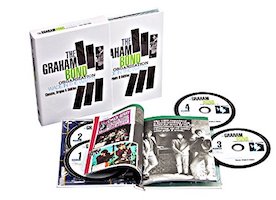 Die Graham Bond Organisation:
Graham Bond: keyb., sax, voc.
Duffy Power: voc.
Jack Bruce: bass, harp, voc.
Ginger Baker: drums, voc.
Jon Hiseman: drums
Alexis Korner: guit.
Big Jim Sullivan: guit.
Ernest Ranglin: guit.
John McLaughlin: guit.
Dick Heckstall-Smith: sax.
Ian Hamer: trumpet
John Hockridge: trumpet
Mike Falana: trumpet
Winston G.: voc.
The Velvelettes: backing vocals
Die Songs:
CD 1:
Roll 'em Pete (as Graham Bond) [Previously unreleased]
Cabbage Greens (Version 1) (as Graham Bond) [Previously unreleased]
Baby What You Want Me To Do (as Graham Bond) [Previously unreleased]
I Saw Her Standing There (Version 1) (as Duffy Power With The Graham Bond Quartet)
Shake, Rattle & Roll (as Duffy Power With The Graham Bond Quartet)
What'd I Say (Version 1) (as Duffy Power With The Graham Bond Quartet)
I Got A Woman (as Duffy Power With The Graham Bond Quartet)
I Saw Her Standing There (Version 2) (as Duffy Power With The Graham Bond Quartet)
Farewell Baby (Version 1 – alternative take) (as Duffy Power With The Graham Bond Quartet)
Farewell Baby (Version 2 – master take) (as Duffy Power With The Graham Bond Quartet)
Slippin' & Slidin' (as The Graham Bond Quartet) [Previously unreleased]
Spanish Blues (as The Graham Bond Quartet) [Previously unreleased]
Untitled Abbey Road Blues Instrumental (as The Graham Bond Quartet) [Previously unreleased]
It's Happening (as The Graham Bond Quartet) [Previously unreleased]
Wade In The Water (Version 1) (as The Graham Bond Quartet)
Swing-A-Ling (Part 1) (as Ernest Ranglin And The G.Bs)
Swing-A-Ling (Part 2) (as Ernest Ranglin And The G.Bs)
Just A Little Walk (Part I) (as Ernest Ranglin And The G.Bs)
Just A Little Walk (Part II) (as Ernest Ranglin And The G.Bs)
SO-HO (as Ernest Ranglin And The G.Bs)
Say When (Part 1) (as Ernest Ranglin And The G.Bs) [Previously unreleased]
Say When (Part 2) (as Ernest Ranglin And The G.Bs) [Previously unreleased]
Cabbage Greens (Version 2) [Previously unreleased]
Long Legged Baby (Version 1) [Previously unreleased]
Hoochie Coochie Man (Version 1) [Previously unreleased]
Wade In The Water (Version 2) [Previously unreleased]
CD 2:
Green Onions (Version 1) [Previously unreleased]
High Heeled Sneakers (Version 1) [Previously unreleased]
Honey Bee [Previously unreleased]
Long Tall Shorty (Version 1)
Long Legged Baby (Version 2)
Hoochie Coochie Man (Version 2)
Strut Around
High Heeled Sneakers (Version 2)
Little Girl (Version 1)
Wade In The Water (Version 3)
Harmonica
Half A Man (Stereo remix)
Keep A-Drivin' (Stereo remix)
What Am I Living For? (Stereo remix) [Previously unreleased]
Neighbour Neighbour (Stereo remix)
Spanish Blues (Version 2 – master take – stereo remix)
Spanish Blues (Version 3 – alternate take – stereo remix) [Previously unreleased]
Tammy (Stereo remix)
I Want You (Stereo remix)
Wade In The Water (Version 4 – stereo remix)
Early In The Morning (Stereo remix)
Baby Make Love To Me (Stereo remix)
Baby Be Good To Me (Stereo remix)
Got My Mojo Working (Stereo remix)
Train Time (Stereo remix)
Little Girl (Version 2 – stereo remix)
Oh Baby (Stereo remix)
Hoochie Coochie Man (Version 3 – stereo remix)
CD 3:
Tell Me (I'm Gonna Love Again)
Love Comes Shining Through
Please Don't Say (as Winston G.)
Like A Baby (as Winston G.)
Walking In The Park (Stereo remix)
Don't Let Go (Remix)
My Heart's In Little Pieces (Stereo remix)
The Night Time Is The Right Time (Remix)
What'd I Say (Version 2 – remix)
Have You Ever Loved A Woman (Remix)
Who's Afraid Of Virginia Woolf (Stereo remix)
Hear Me Calling Your Name (Stereo remix)
Last Night (Stereo remix)
Baby Can It Be True (Stereo remix)
Dick's Instrumental (Stereo remix)
Camels And Elephants (Stereo remix)
Lease On Love (Stereo remix)
Cold Rain [Previously unreleased]
Positive aka HHCK Blues (Version 1 – master take – remix) [Previously unreleased]
Positive aka HHCK Blues (Version 2 – alternate take) [Previously unreleased]
When Johnny Comes Marching Home (Stereo remix) [Previously unreleased]
Good Good Loving (Stereo remix) [Previously unreleased]
Only Sixteen (Stereo remix) [Previously unreleased]
St. James Infirmary
CD 4:
Soul Tango
Wade In The Water (Version 5)
Down In The Valley [Previously unreleased]
Waltz For A Pig (as The Who Orchestra)
Wade In The Water (Version 6) [Previously unreleased]
You've Gotta Have Love Babe (Version 1) [Previously unreleased]
You've Gotta Have Love Babe (Version 2)
I Love You
Wade In The Water (Version 7 – Live) [Previously unreleased]
Long Tall Shorty (Version 2 – Live) [Previously unreleased]
Queen Of Hearts (Live) [Previously unreleased]
Alcoholic Blues (Live) [Previously unreleased]
Green Onions (Version 2 – Live) [Previously unreleased]
High Heeled Sneakers (Version 3 – Live) [Previously unreleased]
The First Time I Met The Blues (Live) [Previously unreleased]
Little Girl (Version 3 – Live) [Previously unreleased]
Stormy Monday (Live) [Previously unreleased]
What'd I Say (Version 3 – Live) [Previously unreleased]
(Visited 291 times, 1 visits today)