Zum Kennenlernen der Musik von Mike Bloomfield ist diese Box, oder wie es der Name sagt, das Scrapbook, bestens geeignet. Es gibt 3 CDs und eine DVD in diesem Buch. Die CDs nennen sich "Roots", "Jams" und "Last Licks", die DVD "Sweet Blues".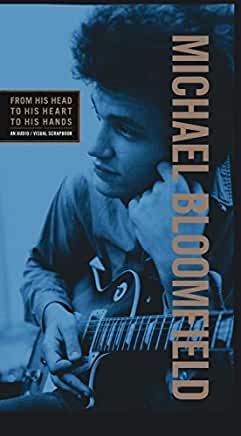 Erschienen ist die Box 2014 und vertrieben von Columbia Records / Sony. Das Begleitheft ist gespickt mit Zitaten verschiedener Musiker, klar das es alles nur positive Meinungen sind. Das Drogenproblem wird hier nicht erwähnt. Die Zitate reichen von Eric Clapton der ihn als sein größtes Vorbild nennt bis zu Miles Davis der 1969 in einem Interview im Rolling Stone sagt:
"You just get vibrations from black people that are swingier than from white. That's why when Mike Bloomfield plays before a black audience, his shit's gonna came out black… you could put Mike Bloomfield with James Brown and he'd be a motherfucker."
Das Vorwort schrieb Al Kooper. Al Kooper schien auch an der Zusammenstellung der Songs beteiligt gewesen zu sein. Die ausführliche Biographie übernahm Michael Simmons Fan von Mike Bloomfield und Autor beim MOJO Magazin.
Gleich die erste CD "Roots" fängt mit bis dahin unveröffentlichten Aufnahmen aus 1964 an. Diese Aufnahmen wurden von John Hammond produziert, der von Anfang an ein Fan von Mike Bloomfield war. "Roots" umspannt die Aufnahmen von 1964 bis 1967 als Mike Bloomfield Mitglied von Electric Flag war.
Auf der zweiten CD "Jams" sind es die Aufnahmen mit Al Kooper. Es sind Songs von der "Super Session" bis zu den Auftritten im Fillmore East. Unveröffentlichtes Material ist hier nicht vorhanden. Die dritte CD "Last Licks" befasst sich vorwiegend mit Liveaufnahmen von 1969 bis 1977.
Seit dem ersten Album der Paul Butterfield Band und "Highway 61 Revisited" von Bob Dylan, bin ich Fan seiner Musik. Irgendwie, so glaube ich persönlich, sein Abstieg fing mit Electric Flag an. Alle folgenden Alben legt ich mir noch zu, soweit sie zu bekommen waren, aber die Begeisterung blieb bei mir aus. Er spielte in meinen Ohren noch eine solide Bluesgitarre, mehr aber nicht. Es ist für mich auch keine Überraschung, dass der letzte Song 1977 aufgenommen wurde. Diese Box zu hören, macht mir dennoch viel Spaß. Eine gute Zusammenstellung.
Mike Bloomfield lebte vom 28.07.1943 bis zum 15.02.1981. Er starb an einer Überdosis Heroin.
CD 1 – Roots:
I'm A Country Boy
Judge, Judge
Hammond's Rag
I've Got You In The Palm Of My Hand
I've Got My Mojo Workin'
Like A Rolling Stone (Bob Dylan, Instrumental)
Tombstone Blues (Bob Dylan, Alternate Chambers Brothers Version)
Michael Speaks About Paul Butterfield
Born In Chicago (The Paul Butterfield Blues Band)
Blues With A Feeling (The Paul Butterfield Blues Band)
East-West (The Paul Butterfield Blues Band)
Killing Floor (The Electric Flag)
Texas (The Electric Flag)
Susie's Shuffle (The Electric Flag, Live Jam)
Just A Little Something (The Electric Flag, Live)
Easy Rider (The Electric Flag)
CD 2 – Jams
Mike Bloomfield mit Al Kooper:
Albert's Shuffle
Stop
His Holy Modal Majesty
Opening Speech (Live)
59th Street Bridge Song (Feeling Groovy) (Hybrid Edit, Live, Mono)
Don't Throw Your Love On Me So Strong (Live)
Santana Clause (Live)
The Weight (Live)
Opening Speech (Live)
One Way Out (Live)  4:17
Her Holy Modal Highness (Live)
Fat Grey Cloud (Live)
Mary Ann (Live)
That's All Right (Live)
CD 3 – Last Licks
I'm Glad I'm Jewish (Live)
Men's Room – Spoken Word Segment From McCabe's (Live)
Don't You Lie To Me (Live)
Can't Lose What You Ain't Never Had (Muddy Waters, Live)
Gypsy Good Time (Live)
One Good Man (Janis Joplin)
It's About Time (Live)
Carmelita Skiffle (Live)
Darktown Strutters Ball (Live)
Don't Think About It Baby
Jockey Blues/Old Folks Boogie (Live)
A-Flat Boogaloo (Live)
Glamour Girl (Live)
Spoken Intro Bob Dylan
The Groom's Still Waiting At The Altar–(Bob Dylan, Live)
Hymn Time (Live Excerpt)
DVD – Sweet Blues
A Film About Michael Bloomfield
(Visited 37 times, 1 visits today)