Es gibt Bands die sich bei mir mit nur einem Song auf Jahre disqualifizieren und anschließend von mir jahrelang ignoriert werden. "Love Hurts" von Nazareth ist so einer. Erst durch Hinweise aus dem ehemaligen Forum des Rockzirkus wurde ich neugierig und hörte in einige Alben rein. Das Ergebnis war, beinahe alle Alben von Nazareth wurden angeschafft. Diese Käufe bereue ich seit letzter Woche, da wurde mir diese Box mit der Nummer 3752 von 5000 geliefert und macht damit all diese Anschaffungen überflüssig.  Die ersten Käufer bekamen ihre Boxen mit Autogrammen, leider war ich zu langsam!
Es ist die am besten bestückte Box die ich bisher kennengelernt habe und hier stehen dutzende Boxen gefüllt mit CDs oder Schallplatten!
Der Inhalt wird weiter unten ausführlich beschrieben. Wer sich mit Nazareth beschäftigen will, ist mit dieser Box gut ausgestattet. Er erhält sämtliche Alben der Band und bekommt viele, bunte Infos über Nazareth.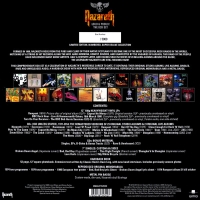 Nur so viel zu Nazareth: Nazareth wurde 1968 in Schottland gegründet. Anfangs passte ihre Musik in die Schublade Hardrock, später wurde es radiotauglicher und poppiger. Zu den Popsongs gehörte auch das von mir verschmähte "Love Hurts". Für mich ist übrigens ihr bestes Album "Snaz", ein Livealbum.
Nazareth, das waren die Gründungsmitglieder:
Dan McCafferty: voc.
Manny Charlton: guit.
Pete Agnew: bass
Darrell Sweet: drums
Später kamen als Ergänzung oder Ersatz:
Carl Sentance, Linton Osborn: voc.
Jimmy Murrison, Zal Cleminson, Billy Rankin: guit.
Lee Agnew: drums
John Locke, Ronnie Leahy: keyb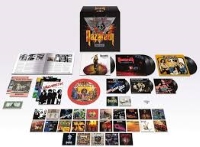 Da wäre das Buch "Nazarteh Loud And Proud 50 Years Of Rock 'n' Roll". Hardcover im Format eine LP (33 x 33 cm) mit ca. 50 bunten Seiten und Informationen zur Band und jedem einzelnen Album.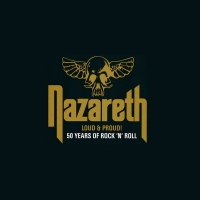 Eine hübsche Anstecknadel: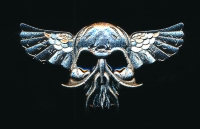 Das reich bebilderte Programm der 1979er Welttour.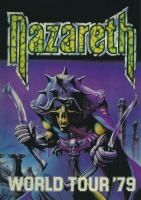 Ein riesiges Poster der Tour 1980 auf zwei Seiten bedruckt: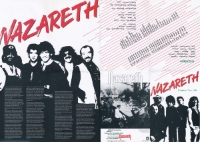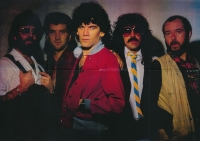 Das Bilderbuch der Plattenfirma mit dem Steckbrief der Bandmitglieder und Informationen zu den Heavy Metal Kids. passend zu Rampant und der anschließenden Tour.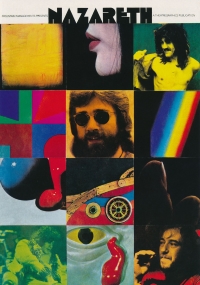 Für Musiker gibt es die Noten und Texte von "Bad Bad Boy" und "Broken Angel"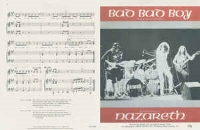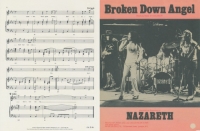 Natürlich sämtliche offiziellen Alben von Nazareth, zuerst die Studioalben:
Nazareth – Same (1971)
Witchdoctor Woman
Dear John
Empty Arms, Empty Heart
I Had A Dream
Red Light Lady
Fat Man
Country Girl
Mornig Dew
The King Is Dead
Nazareth – Exercises (1972)
I Will Not Be Led
Cat's Eye, Apple Pie
In My Time
Woke Up This Morning
Called Her Name
Fool About You
Love Now You're Gone
Madleine
Sad Song
1692 (Glen Coe Massacre)
Nazareth – Razamanaz (1973)
Razamanaz
Alcatraz
Vigilante Man
Woke Up This Morning
Night Woman
Bad Bad Boy
Sold My Soul
Too Bad Too Sad
Broken Down Angel
Nazareth – Loud ´N´ Proud (1973)
Go Down Fighting
Not Faking It
Turn On Your Receiver
Teenage Nervous Breakdown
Free Wheeler
This Flight Tonight
Child In The Sun
The Ballad Of Hollis Brown
Nazareth – Rampant (1974)
Silver Dollar Forger
Glad When You're Gone
Love And Lost
Shanghai'd In Shanghai
Jet Lag
Light My Way
Sunshine
Shapes Of Things / Space Safari
Nazareth – Hair Of The Dog (1975)
Hair Of The Dog
Miss Misery
Guilty
Changin´ Times
Beggars Day/Rose In The Heather
Whiskey Drinkin' Woman
Please Don´t Judas Me
Nazareth – Close Enough For Rock´N´Roll (1976)
Telegram Parts 1 – 4
Vicky
Homesick Again
Vancover Shakedown
Born Under The Wrong Sign
Loretta
Carry Out Feelings
Lift The Lid
You're The Violin
Nazareth – Play ´N´ The Game (1976)
Somebody To Roll
Down Home Girl
Flying
Waiting For The Man
Born To Love
I Want To Do Everything For You
I Don't Want To Go On Without You
Wild Honey
L.A. Girls
Nazareth – Expect No Mercy (1977)
Expect No Mercy
Gone Dead Train
Shot Me Down
Revenge Is Sweet
Gimme What's Mine
Kentucky Fried Blues
New York Broken Toy
Busted
Place In Your Heart
All The King's Horses
Nazareth – No Mean City (1979)
Just To Get Into It
May The Sunshine
Simple Solution (Pts. 1 & 2)
Star
Claim To Fame
Whatever You Want Babe
What's In It For Me
No Mean City (Pts. 1 & 2)
Nazareth – Malice In Wonderland (1980)
Holiday
Showdown At The Border
Talkin' To One Of The Boys
Heart's Grown Cold
Fast Cars
Big Boy
Talkin' Bout Love
Falllen Angel
Ship Of Dreams
Turning a New Leaf
Nazareth – The Fool Circle (1981)
Dressed To Kill
Another Year
Moonlight Eyes
Pop The Silo
Let Me Be Your Leader
We Are The People
Every Young Man's Dream
Little Part Of You
Cocaine (Live)
Victoria
Nazareth – 2XS (1982)
Love Leads To Madness
Boys In The Band
You Love Another
Gatecrash
Games
Back To The Trenches
Dream On
Lonely In The Night
Preservation
Take The Rap
Mexico
Nazareth – Sound Elixir (1983)
All Night Radio
Milk & Honey
Whippin' Boy
Rain On The Window
Backroom Boys
Why Don't You Read The Book
I Ran
Rags To Riches
Local Still
Where Are You Now
Nazareth – The Catch (1984)
Party Down
Ruby Tuesday
Last Exit Brooklyn
Moondance
Love Of Freedom
This Month's Messiah
You Don't Believe In Us
Sweetheart Tree
Road To Nowhere
Nazareth – Cinema (1986)
Cinema
Juliet
Just Another Heartache
Another Side Of You
Hit The Fan
One From The Heart
Salty Salty
White Boy
A Veterans Song
Nazareth – Snake´N´Ladders (1989)
Animals
Lady Luck
Hang On To A Dream
Piece Of My Heart
Trouble
The Key
Back To School
Girls
Donna – Get Off That Crack
See You, See Me
Helpless
Nazareth – No Jive (1991)
Hire And Fire
Do You Wanna Play House
Right Between The Eyes
Every Time It Rains
Keeping Our Love Alive
Thinkin' Man's Nightmare
Cover Your Heart
Lap Of Luxury
The Rowan Tree / Tell Me That You Love Me
Cry Wolf
Nazareth – Move Me (1994)
Let Me Be Your Dog
Can't Shake Those Shakes
Crack Me Up
Move Me
Steamroller
Stand By Your Beds
Rip It Up
Demon Alcohol
You Had It Comin'
Bring It On Home Mama
Burning Down
Nazareth – Boogaloo (1998)
When The Light Comes Down
Cheerleader
Loverman
Open Up Woman
Talk Talk
Nothing So Good
Party In The Kremlin
God Save The South
Robber And The Roadie
Waiting
May Heaven Keep You
Nazareth – The Newz (2008)
Goin´Loco
Day At The Beach
Liar
See Me
Enough Love
Warning
Mean Streets
Road Trip
Gloria
Keep On Travellin'
Loggin' On
The Gathering
Dying Breed
Nazareth – Big Dogz (2011)
Big Dogz Gonna Howl
Claimed
No Mean Monster
When Jesus Comes To Save The World Again
Radio
Time And Tide
Lifeboat
The Toast
Watch Your Back
Butterfly
Sleeptalker
Nazareth – Rock´N´Roll Telephone (2014)
Boom Bang Bang
One Set of Bones
Back 2b4
Winter Sunlight
Rock 'n' Roll Telephone
Punch A Hole In The Sky
Long Long Time
The Right Time
Not Today
Speakeasy
God Of The Mountain
Die LIVE Alben:
Nazareth – ´Snaz (1981)
Telegram
Razamanaz
I Want To Do Everything For You
This Flight Tonight
Beggar's Day
Every Young Man's Dream
Heart's Grown Cold
Java Blues
Cocaine
Big Boy
Holiday
Dressed To Kill
Hair Of The Dog
Expect No Mercy
Shapes Of Things
Let Me Be Your Leader
Love Hurts
Tush
Juicy Lucy
Morning Dew
Nazareth – Homecoming – Live At The Garage Glasgow, 2002
Light Comes Down
Razamanaz
Miss Misery
Holiday
Dream On
Simple Solution
My White Bicycle
Walk By Yourself
Bad Bad Boy
Heart's Grown Cold
Broken Down Angel
Whiskey Drinkin' Woman
Hair Of The Dog
This Flight Tonight
Beggar's Day
Love Hurts
Als Bonusse: Nazareth – Singles, EPs, B-Sides & Bonus Tracks  (3 CDs)
Friends (Alternate Edit)
Morning Dew
If You See My Baby
Hard Living
Spinning Top
Love Hurts
Hair Of The Dog
Down
My White Bicycle
Holy Roller
Railroad Boy
Nightingale
You're The Violin
Good Love
Greens
Desolation Road
May The Sunshine (Single Version)
Star
Whatever You Want Babe (Single Edit)
Crazy (A Suitable Case for Treatment
Morgentau
Heart's Grown Cold (Live At Hammersmith Odeon, 16/3/80)
Razamanaz (Live At Hammersmith Odeon, 16/3/80
Hair Of The Dog (Live At Hammersmith Odeon, 16/3/80
Talkin' To One Of The Boys (Live At Hammersmith Odeon, 16/03/80)
On the Run
Do You Think About It
Party Down
Winner On The Night
Woke Up This Morning (Live In Germany)
Bad Bad Boy (Live At Glasgow Garage 2002)
Just Another Heartache (Alternate Version)
A Veterans Song (Alternate Version)
This Flight Tonight (1991 Version)
Tell Me That You Love Me (Single Version)
Love Hurts (Rock Orchestra Version)
Razamanaz (Unplugged)
My White Bicycle (Unplugged)
This Flight Tonight (Unplugged)
Love Hurts (Instrumental Orchestra Version)
Laid To Wasted
Walk By Yourself
Danger Danger
Just A Ride
Wanna Feel Good?
Big Boy (Acoustic)
Simple Solution (Acoustic)
My White Bicycle
Love Hurts (Acoustic)
Open Up Woman (Acoustic)
Noch mehr Bonusse: Nazareth Rare & Unreleased (3 CDs)
Storm Warning
Paper Sun
Goin' Down (BBC Pop Spectacular, 4th January 1973; Live
Dear John (BBC Pop Spectacular, 4th January 1973; Live)
Ruby Baby (BBC Pop Spectacular, 4th January 1973; Live)
Razamanaz (Razamanaz Demo, 1973)
Alcatraz (Razamanaz Demo, 1973)
Vigilante Man (Razamanaz Demo, 1973)
Night Woman (Razamanaz Demo, 1973)
Bad, Bad Boy (Razamanaz Demo, 1973)
Broken Down Angel (Razamanaz Demo, 1973)
Go Down Fighting (Loud 'N' Proud Demo, 1973)
Child In The Sun (Loud 'N' Proud Demo, 1973)
Not Faking It (Loud 'N' Proud Demo, 1973)
Teenage Nervous Breakdown (Loud 'N' Proud Demo, 1973)
Jet Lag (Rampant Demo, 1974; Mono)   CD31
Light My Way (Rampant Demo, 1974; Mono)
Loved And Lost (Rampant Demo, 1974; Mono)
Shanghai'd In Shanghai (Rampant Demo, 1974; Mono
Sunshine (Rampant Demo, 1974; Mono)
Snaefel
Mexico (Demo From 2XS)
Read The Book (Sound Elixir Demo, 1983)
Baby's Got A Gun (Sound Elixir Demo, 1983)
Crime & Punishment (Sound Elixir Demo, 1983)
Let Me See The Light (Sound Elixir Demo, 1983)
Blue Skies (Sound Elixir Demo, 1983)
SOS (Outtake From Sound Elixir)
Eat The Book (Outtake From Sound Elixir)
Sunshine Of Your Love (Outtake From Snakes N Ladders)
See You See Me (Demo From Snakes 'n' Ladders)
Heatwave (Outtake From Snakes N Ladders)
Every Time It Rains (No Jive Demo, 1991)
Cry Wolf (No Jive Demo, 1991)
Right Between The Eyes (No Jive Demo, 1991)
Stand By Your Beds (Move Me Demo, 1994)   CD32
Steamroller (Move Me Demo, 1994)
Demon Alcohol (Move Me Demo, 1994)
When The Light Comes Down (Boogaloo Rough Mix, 1997)
Waiting (Boogaloo Rough Mix, 1997)
Loverman (Boogaloo Rough Mix, 1997)
Open Up Woman (Boogaloo Rough Mix, 1997)
Talk Talk (Boogaloo Rough Mix, 1997)
Nothing So Good (Boogaloo Rough Mix, 1997)
Cheerleader (Boogaloo Rough Mix, 1997)
Open Up Woman (Boogaloo Acoustic Alternative Version, 1998)
Bad, Bad Boy (Re-Record, 2009)
Broken Down Angel (Re-Record, 2009)
Heart's Grown Cold (Re-Record, 2009)
Love Hurts (Re-Record, 2009)
My White Bicycle (Re-Record, 2009)
Turn On Your Receiver (Re-Record, 2009)
12'' LPs
Nazareth – Rampant – Picture Disc
A1 Silver Dollar Forger
A2 Glad When You're Gone
A3 Loved And Lost
A4 Shanghai'd In ShanghaiB1 Jet Lag
B2 Light My Way
B3 Sunshine
B4 Shapes Of Things / Space Safari
Nazareth – Expect No Mercy – Original Version
A1 Kentucky Fried Blues
A2 Gone Dead Train
A3 Shot Me Down
A4 Greens
A5 Life Of A DogB1 New York Broken Toy
B2 Revenge Is Sweet
B3 Desolation Road
B4 Can't Keep A Good Man Down
B5 Moonlight Eyes
Nazareth – BBC Rock Hour- Live At Hammersmith Odeo, London – 16th March 1980
A-Seite:
Razamanaz
I Want To Do Everything For You
Showdown At The BorderB-Seite:
Beggar's Day
Heart's Grown Cold
Big BoyC-Seite:
Holiday / This Flight Tonight
Hair Of The Dog

D-Seite:
Talkin' To One Of The Boys
Expect No Mercy
Broken Down Angel
Nazareth – Turn On Your Receiver – BBC Bob Harris Session 1972 – 73
A-Seite:
Woke Up This Morning / Boogie
Hard Living
Country Girl
Goin' DownB-Seite:
Razamanaz
Night Woman
Broken Down Angel
Vigilante ManC-Seite:
Turn On Your Receiver
Too Bad Too Sad
Razamanaz
Bad Bad Boy

D – Leer
7´´ Single 1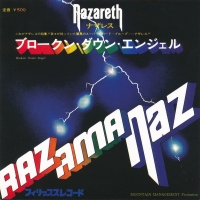 A – Broken Down Angel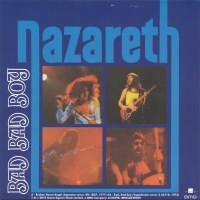 B – Bad Bad Boy
7´´ Single 2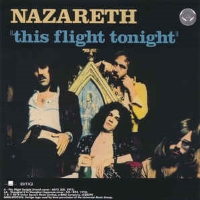 A – This Flight Tonight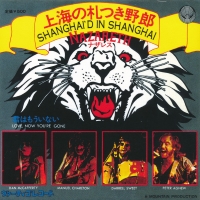 B – Shanghai'd In Shanghai
7´´ Single 3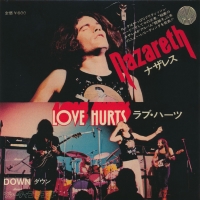 A – Love Hurts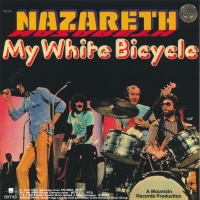 B – My White Bicycle
(Visited 722 times, 1 visits today)