Die zwei Alben "Put On Your Rockin Shoes" und "It's A Monster!" fand ich im Doppelpack in irgendeinem Plattenladen in Holland. Die Namen waren mir bekannt, da einzelne Songs auf Samplern zu finden sind. Long Tall Ernie And The Shakers sind eine Band aus Arnheim, ursprünglich gegründet von Kunststudenten unter dem Bandnamen "The Moans". Ein bekanntes Mitglied von The Moans war Hermann Brood.
1972, zur Zeit des Erstlings "Put On Your Rockin' Shoes", war Brood bereits bei Cuby And The Blizzards. Long Tall Ernie & The Shakers verstanden sich als Spaßband. Weg vom sonst von ihnen üblicherweise gespielten Progrock und hin zu dem ursprünglichen Rock 'n' Roll. Die Songs hätten von Elvis Presley, Buddy Holly, Little Richard oder Jerry Lee Lewis stammen können, wurden aber alle von Arnie Treffers komponiert. Die einzige Ausnahme ist "Lucille" von Little Richard. Man fühlt sich Ende der 1950er Jahre versetzt. Der Sound ist zwar etwas moderner, das spielt allerdings nicht die große Rolle. Die Stimme von "Long Tall Ernie" passt exakt zu den Shoutern der Rock 'n' Roll Ära.
Das zweite Album "It's A Monster!" erschien ein Jahr später 1973. Es unterscheidet sich stilistisch nicht vom Erstling. Wieder sind es alles Eigenkompositionen, diesmal durften sich aber die Mitglieder der Band beteiligen. Leider liegen den CDs keinerlei Informationen bei.
Freunde des Rock 'n' Roll werden ihre Freude an beiden Alben haben.  Irgendwann schrieb ich: die Holländer und die Finnen habe es musikalisch einfach drauf und unsere Bands können sich eine Scheibe abschneiden!
Long Tall Ernie And The Shakers
Arnie Treffers aka Long Tall Ernie: voc.
Henk "The Knife" Bruysten: bass
Alan "Tenderfoot" McFarlane: drums
Alfon Heket aka Alfie Muscles: guit.
Jan Rietman aka Jumping Johnny: piano
Elmondo Combo: backing vocals
Long Tall Ernie And The Shakers – Put On Your Rockin' Shoes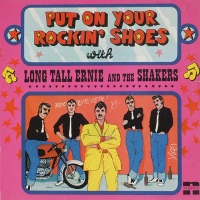 Kiss Me Baby
Rock Little Sister
Hello Hello
Don't You Ever Change
Motor Man
Oh Pretty Baby
Rockin' Mama
Struggle For Life (Soundtrack)
Everynight (I Am Lonely)
Don't Knock Me Out
Ride Little Anny
Lucille
Long Tall Ernie And The Shakers – It's A Monster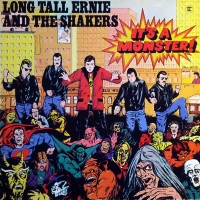 Rockville
I Don't Give A Damn
Wild Wild Woman
Divorcement Nr. 9
Dearest Darling
Goodbye Johnny
Bumpety Bump
My Girl Won't Dance
Please Don't Wait Too Long
You'll Regret (Your Wedding Day)
The Knife
A Cowboy Never Cries
If You'll Ever Notice Me
Bye Bye
(Visited 333 times, 1 visits today)