Wenn man die Rubble oder die Nuggets Sammlungen kennt und mag, dann muss natürlich auch die Pebbles Box genannt werden!
Monster Sounds For A Mutated Planet
The Very Wildest, Rawest, Acid-Scared Fuzz-Drenched Classic Of The Psychodelic Sixties, Guaranteed To Clean Up Youre Face And Get You To The World In Time!
So wird die Box auf dem beiligenden Poster beschrieben. Mehr als das Poster und die fünf Platten liegen der Box auch nicht bei. Das ist auch nicht notwendig, da alle Informationen auf den einzelnen Hüllen zu finden sind. Die Musik kommt aus den USA. Es ist Garage, Punk, Rock 'n' Roll, R&B und das meise davon mit einem Schuss Psychedelic. Die fünf LPs der Box sind nicht immer identisch zu den LPs der Serie. Die eigentliche Serie bestand aus elf LPs, plus einen Nachzügler in 1999. Die LPs und CDs der Serie sind alle noch zu bekommen, wenn man genug Geld ausgeben will. Mir genügt diese Box. Die Platten sind alle eingefärbt, so wie es sich in den 1960ern gehörte.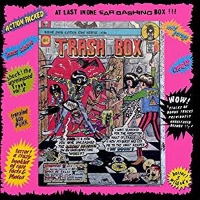 Für solche Menschen die keinen Plattenspieler besitzen, es gibt (beinahe) das Gleiche auch als CD. The Box Of Trash nennt sich die CD-Box. Es gibt kleine Unterschiede zu der Vinyl-Box, die kann man aber vernachlässigen. Dieser Box liegt ein kleines Heftchen mit den Infos zu den Bands und den Songs bei, sowie ein Poster "GET PRIMITIVE!"
Die Songs der Vinyl Ausgabe:
LP 1 A-Seite:
The Litter – Action Woman
The Preachers – Who Do You Love
Floyd Dakil Combo – Dance Franny Dance
The Shag – Stop & Listen
The Grains Of Sand – Going Away Baby
The Rogues – The Train Kept A-Rollin'
The Sweet Acids – That Creature
LP 1 B-Seite:
The Soup Greens – Like A Rolling Stone
The Wig – Cracking Up
Positively 13 O'Clock – Psychotic Reaction
Kim Fowley – The Trip
Kim Fowley – Underground Lady
The Shadows Of Knight – Potato Chip
The Wilde Knights – Beaver Patrol
LP 2 A-Seite:
The Split Ends – Rich With Nothing
The Sons Of Adam – Feathered Fish
The Road – You Rub Me The Wrong Way
The Buddhas – Lost Innocence
The Regiment – My Soap Won't Float
The Inmates – More Than I Have
The Inmates – Fakirs & Thieves
LP 2 B-Seite:
The Little Boy Blues – I Can Only Give You Everything
Phil & The Frantics – I Must Run
The Choir – It's Cold Outside
The Journey Men – She's Sorry
The Wee Four – Weird
William Penn Five – Blow My Mind
Randy Alvey & The Green Fuzz – Green Fuzz
LP 3 A-Seite:
Dave Diamond & The Higher Elevation – The Diamond Mine
Teddy & His Patches – Suzy Creamcheese
Crystal Chandlier – Suicidal Flowers
Naked Truth – The Wall
The Electric Prunes – Vox Wah-Wah Ad
The Calico Wall – Flight Reaction
The Hogs – Loose Lip Sync Ship
LP 3 B-Seite:
Macabre – Be Forewarned
The Monocles – Spider And The Fly
Godfrey – Let's Take A Trip
T.C. Atlantic – Faces
Oshun – Rattle Of LIfe
Weird Street Carnival – The Inner Truth
The Driving Stupid – The Reality Of (Air) Borsk
The Driving Stupid – Horror Asparagus Stories
LP 4 A-Seite:
Gonn – Doin' Me In
Dearly Beloved – Flight 13
The Quid-  Crazy Things
Satan & The D-Men – She'll Lie
The Haunted – Vaper Mauve
Phil & The Frantics – Till You Get Want You Want
The Grodes – Cry A Little Longer
Bobby Fuller – I Fought The Law
LP 4 B-Seite:
The Groupies – I'm A Hog For You
Debonires – Never Mistaken
The Oxford Circle – Foolish Woman
Edgins Inds – Don't Try To Hide It
Bethlehem Exit – Blues Concering My Girl
Spades – We Sell Soul
Final Solution – So Long Goodbye
LP 5 A-Seite:
The Tree – No Good Woman
The Gentleman – It's A Crying
The 5 Canadians – Writing On The Wall
The Leather Boy – Shadows
William Penn Five – Swam
The Fe-Fi-Four Plus 2 – Wanna Come Back
LP 5 B-Seite:
The Bitter End – If You Want Somebody
The Satyrs – Yesterdays Hero
State Of Mind – Move
Yesterdays Children – Wanna Be With You
Thursday's Children – You'll Never Be My Girl
Thursday's Children – Air-Conditioned Man
The Tropics – I Want More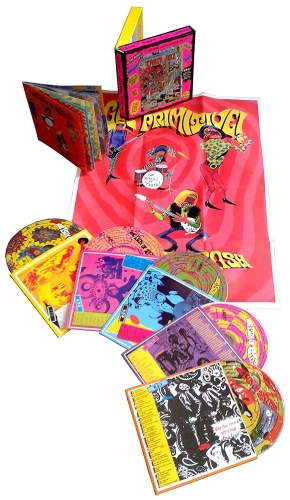 (Visited 260 times, 1 visits today)