MILLIONS LIKE US: Beim Anhören dieses hervorragenden Lumpensammlers klappen einem glatt die Lungenflügel weg, flappen sinnlos im luftleeren Raum und ringen nach Sauerstoff. Mir geht das jedenfalls so, denn das was CHERRY RED hier zusammenkompiliert hat sucht seinesgleichen, jedenfalls im Bereich "Mod"! Hier dreht sich alles um die Bewegung die sich Ende Seventies in Britannien hinter THE JAM versammelt hatte. Und wie ihre Überväter beriefen sich alle diese faszinierenden jungen Bands auf das Fundament der ersten Mod-Welle in den Sixties und ihren Anführern THE WHO, SMALL FACES, THE ACTION, YARDBIRDS, aber auch auf Soul und Rock'n'Roll. Bei der hier dokumentierten "zweiten Welle" kamen dann auch noch die Einflüsse 2-Tone und Punk hinzu. Bei manchen Tracks hier glaube ich sogar, dass auch die Glamrocker SLADE bei den Mod-Kids Spuren hinterlassen hatten. Insgesamt ist es beeindruckend wie man sich damals auf kurze, eingängige und mitsingbare Songs eingeschworen hatte, ein Paradies für Melodie-Freaks!
MILLIONS LIKE US ist eine wahre Schatzkiste, greift viele der Bands auf die nur grad mal ein oder zwei Singles veröffentlichten, und erst noch in ausgezeichnetem Remaster-Sound, was bei dem britischen Reissue-Spezialisten CHERRY RED nicht weiter verwundert, die liefern eigentlich immer 1a-Arbeit ab.
MILLIONS LIKE US kommt im Buchformat daher, hat einen hervorragend gestalteten Innenteil und wird mit Garantie zu einem gesuchten und teuer gehandelten Sammlerstück werden. Zugreifen würd' ich sagen, auf der Stelle! Zumindest sollten Musik-Liebhaber denen der Begriff "Mod" am Herzen liegt, sich das nicht entgehen lassen. Diese Dokumentation ist jeden einzelnen Cent wert, ist eine einzigartiger Basis für ein viel zu wenig bekanntes Gelände!
mellow
MILLIONS LIKE US – The Story Of The Mod Revival 1977-1989 (Cherry Red, 2014)
DISC ONE:
THE NEW HEARTS – Just Another Teenage Anthem
THE EXITS – The Fashion Plague
THE REACTION – I Can't Resist
STRANGEWAYS – All The Sounds Of Fear (Demo)
SEMA 4 – Sema 4 Messages
SPEEDBALL – No Survivors
THE JOLT – See Saw
THE CIGARETTES – They're Back Again, Here They Come
THE KILLERMETERS – Why Should It Happen To Me
THE DONKEYS – What I Want
SECRET AFFAIR – Time For Action
PURPLE HEARTS – Millions Like Us
THE CHORDS – Now It's Gone
BACK TO ZERO – Your Side Of Heaven
SQUIRE – Walking Down The Kings Road
MERTON PARKAS – Plastic Smile
THE CROOKS – Modern Boys
UNTAMED YOUTH Untamed Youth
THE FIRST STEPS – The Beat Is Back
THE NIPS – Gabrielle
THE TEENBEATS – Strength Of The Nation
THE LAMBRETTAS – Go Steady
LONG TALL SHORTY – 1970's Boy
LES ELITE – Career Girls
BEGGAR – Don't Throw Your Life Away (live)
THE MODS – Let Me Be The One (live)
DISC TWO :
THE CIRCLES – Opening Up
THE ODDS – Saturday Night
SEVENTEEN – Bank Holiday Weekend
THE MOST – Carefree
THE SCENE – Hey Girl
THE SAME – Wild About You
THE VANDELLS – Bank Holiday
THE DIRECTIONS – Three Bands Tonite
THE CHORDS – Maybe Tomorrow
STA-PREST – School Days
9 BELOW ZERO – Pack Fair And Square (previously unissued demo)
THE ACCIDENTS – Blood Spattered With Guitars
MI5 – Television Screen Heroes
SECRET AFFAIR – My World
Q-TIPS – S.Y.S.L.J.F.M. (The Letter Song)
DEAD BEATS – Choose You
THE LETTERS – Nobody Loves Me
THE NAME – Fuck Art Let's Dance (Demo)
THE LAMBRETTAS – D-a-a-ance
SQUIRE – My Mind Goes Round In Circles
THE SCENE – I've Had Enough
D.C.10's – I Can See Through Walls
RUN 229 – Soho
THE FIXATIONS – No Way Out
TWO TONE PINKS – Don't Lecture Me
DISC THREE:
SMALL HOURS – The Kid
WEEKEND – Tina's Party
THE UPSET – Only For Sheep (previously unissued)
THE AMBER SQUAD – Can We Go Dancing
THE TIMES – Red With Purple Flashes
THE HEARTBEATS – Go
THE DODOS – Blind To Fiction
THE RETREADS – Would You Listen Girl
LONG TALL SHORTY – Win Or Lose
THE GENTS – The Faker
THE CLUES – No Vacancies
THE ONLOOKERS – You And I
SMALL WORLD – Love Is Dead
PURPLE HEARTS – Plane Crash (Respond version)
THE STRIPES – One Step Ahead
DIRECT HITS – Modesty Blaise
THE DIPLOMATS – I'll Keep On Holding On
THE TRUTH – Confusion (Hits Us Everytime)
THE PRISONERS – Hurricane
FAST EDDIE – I Don't Need No Doctor
THE JETSET – Wednesday Girl
DEE WALKER – Jump Back
THE WAY OUT – Time Moves Us On
MANUAL SCAN – Nothing You Can Do
MOD FUN – I Am With You
DISC FOUR :
THE SCENE – Something That You Said
STUPIDITY – Bend Don't Break
THE MOMENT – In This Town
THE UNTOUCHABLES – Free Yourself
THE COMBINE – Dreams Come True
THE ALLJACKS – Guilty
MAKIN' TIME – Here Is My Number
THE CO-STARS – Kiss And Make Up
THE BOSS – One Good Reason
THE BLADES – The Last Man In Europe
5:30! – Catcher In The Rye
SOLID STATE – Train To London Town
ELEANOR RIGBY – I Want To Sleep With You
THE RAGE – Looking For You
THE THREADS – Step Back
THE RISK – Jobs For The Boys
JAMES TAYLOR QUARTET – Blow Up
THE KICK – Julie London
THE REFLECTION A.O.B. – All I Want To Be
STUDIO 68 – Get Out Of My Hair
THE LEEPERS – Paint In A Day
THE CLIQUE – Worming
THE AARDVARKS – Arthur C. Clarke
Ergänzung 1:
Um exakt die Bands die man auf MILLIONS LIKE US hören kann, dreht sich das Buch TIME FOR ACTION von GARRY BUSHELL. Es ist keine schulmeisterliche Erklärung der damaligen Szene, sondern eine überaus lesenswerte Momentaufnahme, Essays, Artikel und Interviews die er Ende Siebziger für britische Musikgazetten verfasst hatte. Begleitend zu den Texten gibt's eine Menge Fotos, Flyers und Plakate die das Phänomen MOD-Revival nochmals lebendig werden lassen. Fazit: Pflichtlektüre für Besitzer von MILLIONS LIKE US…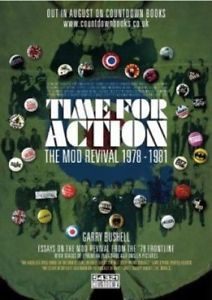 GARRY BUSHELL – TIME FOR ACTION (Countdown Books, 2012)
Ergänzung 2:
Die Compilation ACID JAZZ MOD passt hervorragend zu MILLIONS LIKE US und beleuchtet hier ergänzend die spätere, respektive neuere Phase der Modernisten.
In den Archiven des britischen, 1987 gegründeten Labels, finden sich massenhaft Künstler die man der MOD-Szene zuordnen kann oder die zumindest mit dieser Richtung liebäugelten. ACID JAZZ MOD glänzt in erster Linie mit Neo-Soul im härteren STAX-Style, führt aber wie üblich beim MOD auch eine ganze Latte Rock, Orgel-Jazz und R&B im Angebot. Entdeckungen soweit die entsprechenden Sinnesorgane das verkraften können: Hat etwa schon mal jemand NIGHT TRAINS hypnotische Coverversion von "No More Heroes" (STRANGLERS) gehört?
Nein?
Also dieser gloriose und dennoch simple Track gehört eigentlich in jede Erste-Hilfe-Apotheke und müsste allererste Wahl sein falls jemandem die Füsse eingeschlafen sein sollten…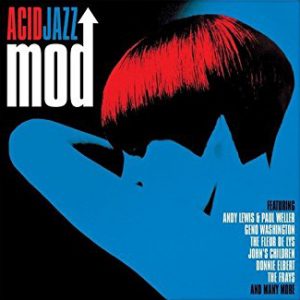 ACID JAZZ MOD (Acid Jazz, 2014)
DISC ONE :
ANDY LEWIS & PAUL WELLER – Are You Trying To Be Lonely
MEN OF NORTH COUNTRY – Pandora
LORD LARGE & DEAN PARISH – Left Right & Centre
THE MOONS – Everyday Heroes
JOHN'S CHILDREN – I Got The Buzz
WAYGOOD ELLIS – I Like What I'm Trying To Do
THE DILEMMAS – Fahrenheit
CORDUROY – E-Type (Live)
GENO WASHINGTON – Holding On (With Both Hands)
MOTHER EARTH- Be Selected (Live)
PLANET- Confusion
BROKEN VINYL CLUB – I Want You Girl
THE FILTHY SIX- Knockout
TONY & TANDY- Two Can Make It Together
THE JAMES TAYLOR QUARTET- Car Chase
THE THIRD DEGREE – Mercy
PLEASURE BEACH – Out Of The Blues
THE JAMES COBURN COOL – Juicer
THE FLEUR DE LYS – Wait For Me
LONG TALL SHORTY – Shine On Me
DISC TWO:
THE ELEMENTS – Caught In A Storm
KITCHENER – The Magic Lounge About
PHAZE – Indian Rope Man
SHARON TANDY – Gotta Get Enough Time
NIGHT TRAINS – No More Heroes
MAXINE – Who Belongs To You
THE RED INSPECTORS – Clutching At Straws
THE FRAYS – Don't Start Crying Now
SATISFACTION – Liar Liar
GRAND UNION – Morning Brings The Light
THE FRAYS – Keep Me Covered
DANGER MOD – Theodalight 9
DONNIE ELBERT – This Old Heart Of Mine
SMOOVE – Tired Feet
KENNY BERNARD – I'll Go Crazy
THE CLIQUE – Wormin'
SNOWBOY – Theme From The New Avengers
JIMMY JAMES & THE VAGABONDS – Looking Good
ACTION BAND – White Elephant
JOHN'S CHILDREN – Sara, Crazy Child
(Visited 286 times, 1 visits today)