Charlie Daniels rief und alle kamen:
"Sie kamen von den Bergen und sie kamen von den Küsten. In brandneuen Cadillacs und in alten, zerschrammten Fords. Sie waren stolz, sie waren arm, sie waren groß, sie waren klein, sie waren fett, sie waren dünn, sie waren kurz, sie waren lang. …"
So beginnt der Begleittext zur "Volunteer Jam VI".
Mit "Sie" war hier das angereiste Publikum gemeint. Hören und sehen konnten die Glücklichen 1980 in Tennessee:
Stillwater,
Johnny Prine
LeRoux
Grinder Switch
New Life
The Winters
Crystal Gayle
The Henry Paul Band
Wet Willie
Marshall Tucker Band
Ted Nugent
Papa John Creach
Sea Level
Mac Gayden
Rufus Thomas
Dobie Gray
Delbert McClinton
Pattie Smith
Elvin Bishop
Dickey Betts
Greg Allman
Micke Gilley
Bonnie Bramlet
Willie Nelson
und dutzende mehr.
Schwarze und Weiße standen hier im tiefen Süden der USA gemeinsam auf der Bühne und jammten auf Teufel komm raus. Die erste Jamsession fand 1974 statt. Damals waren "nur" die Charlie Daniels Band, die Marshall Tucker Band und die Allman Brother's beteiligt.
Aufgrund des Riesenerfolges wurde die Volunteer Jam bis 1987 jährlich veranstaltet. Die Höhepunkte der sechsten Jam wurden auf Vinyl gepresst. Die CD dazu soll es geben und wird noch gesucht.
Die Tracks:
Winters Brothers Band: Rich Kids
Louisiana's LeRoux: New Orleans Ladies
Dobie Gray: The Night They Drove Old Dixie Down
Crystal Gayle: Same Old Story, Same Old Song
Charlie Daniels Band: Funky Junky
Charlie Daniels Band with Bobby Jones & The New Life Singers: Amazing Grace und
Will The Circle Be Unbroken
Wet Willie: Keep On Smilin'
Henry Paul Band: So Long/
Papa John Creach: Down Home Blues
Ted Nugent: Carol
Rufus Thomas: Do The Funky Chicken
Grinderswitch: Lady Luck
Nachtrag:
Es gibt da noch zwei Best Off's unter dem Titel Classics Performances Live. Die Volunteer Jam VII ist ebenfalls nicht schlecht, leider nur etwas kürzer ausgefallen. Die von mir genannte VI gibt es nicht als Ganzes auf CD, nur Teile davon sind auf den Vol. 1 und 2 zu finden. Hier hilft nur die Schallplatte.
Es macht einfach Spaß diesen Jams zuzuhören. Wie geschrieben stehen hier Schwarz und Weiß gemeinsam auf der Bühne und singen ihr Sweet Home Alabama, Amazing Grace oder tanzen den Funky Chicken. Ted Nugent mit Rufus Thomas, Papa John Creach und Wet Willie.
Den Spaß den die Musiker haben und der Stolz auf ihr Land ist bei jedem Song zu hören.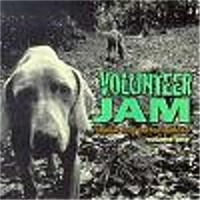 Best Of Volume 1
1. Can't You See – The Marshall Tucker Band
2. Statesboro Blues – Sea Level
3. Funny How Time Slips Away/Crazy/Night Life – Willie Nelson Medley
4. Mississippi Queen – Ted Nugent/Molly Hatchet
5. Lady Luck – Grinderswitch
6. Down Home Blues – Papa John Creach
7. Keep On Smiling – Wet Willie
8. The South's Gonna Do It – The Charlie Daniels Band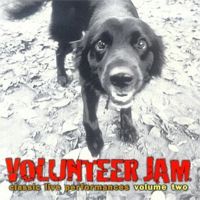 Best Of Volume 2
1. Street Corner Serenade – Wet Willie
2. Trudy – The Charlie Daniels Band
3. The Night They Drove Old Dixie Down – Dobie Gray
4. (Your Love Has Lifted Me) Higher And Higher – Jimmy Hall
5. Carol – Ted Nugent
6. New Orleans Ladies – Louisiana's Leroux
7. Good Hearted Woman – Willie Nelson
8. Standing On Shakey Ground – Delbert McClinton
9. Do The Funky Chicken – Rufus Thomas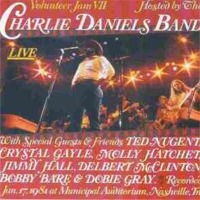 Volunteer Jam VII
1. Sweet Home Alabama – The Charlie Daniels Band
2. Shakey Ground – The Charlie Daniels Band, Delbert McClinton
3. Falling in Love for the Night – The Charlie Daniels Band, Crystal Gayle
4. Marie Lavaux – Bobby Bare, The Charlie Daniels Band
5. (Your Love Has Lifted Me) Higher and Higher – The Charlie Daniels Band, Jimmy Hall
6. Mississippi Queen – The Charlie Daniels Band, Molly Hatchet, Ted Nugent
7. Around and Around – The Charlie Daniels Band, Ted Nugent
8. Change Is Gonna Come – The Charlie Daniels Band, Dobie Gray
9. Can't You See – The Charlie Daniels Band
(Visited 116 times, 1 visits today)