Jan Akkerman, alle Alben in einer Box? Glaub ich nicht, aber immerhin sind es 26 CDs. Zwei CDs enthalten einzelne Songs von seiner uralt Band, von Brainbox und von Focus, der Rest sind seine bekannteren Studio- und Livealben..
Jan Akkerman ist für mich einer der großartigsten Gitarristen im Rockgeschäft und das nicht nur bei unseren holländischen Nachbarn.  Er spielt sich durch alle Stille, von Klassik über Beat und Jazz bis Hardrock. Die Box enthält, außer den CDs die in billige Hüllen gesteckt sind, nichts als ein kleines Heftchen mit den Covern der Alben, den Tracklisten und eine Geschichte zum jeweiligen Album. Niocht was einen Sammler so richtig umhaut. Einige der Alben gibt es in meiner Sammlung bereits als Vinyl oder CD, hier gibt es aber die Gelegenheit sich das (fast) ganze Werk des Ausnahmegitarristen anzuschaffen.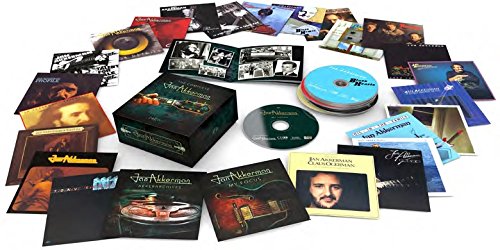 Jan Akkerman – Talent For Sale
Bags Groove
Revival of the Cat
Moonbeam
Mercy, Mercy, Mercy
On the Green Light
What'd I Say
Slim Jenkin's Place
Hineimatov
Green Onions
Ode to Billy Joe
Comin' Home Baby
Jan Akkerman – Profile
Fresh Air
Kemps Jig
Etude
Blue Boy
Andante Sostenuto
Maybe Just a Dream
Minstrel / Farmers Dance
Stick
Jan Akkerman – Tabernakel
Britannia By John Dowland
Coranto for Mrs. Murcott By Francis Pilkington
The Earl of Derby, His Galliard By John Dowland
House of the King
A Galliard By Anthonie Holborne
A Galliard By John Dowland
A Pavan By Thomas Morley
Jaweh
A Fantasy By Laurencini of Rome
Lammy
Jan Akkerman & Kaz Lux – Eli & Transparental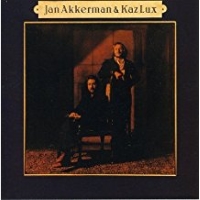 Eli:
Eli
Guardian Angel
Tranquillizer
Can't Fake a Good Time
There He Still Goes
Strindberg
Wings of Strings
Naked Actress
Fairytale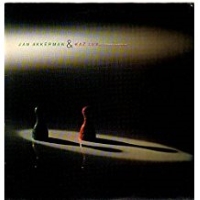 Transparental:
Inspiration
Apocalypso
Concentrate, Don't Hesitate
Transparental
I Don't Take It Much Longer
Marsha
You're Not the Type
The Party Is Over
Jan Akkerman – Same
Crackers
Angel Watch
Pavane
Streetwalker
Skydancer
Floatin'
Gate to Europe
Tony Scott Featuring Jan Akkerman: Prism
Silmarillion
The Offering
Blues Blues Blues and Then Some More Blues
Under the Bo Tree
Aranjuez – Jan Akkerman & Claus Ogerman With The Symphony Orchestra
Adagio from 'Concierto de Aranjuez'
Nightwings
Mondinha (Preludio)
Espaqoleta
Pavane Pour Une Infante Defunte
Love Remembered
The Seed of God (From 'Magdalena')
Bachinanas Brasileiras No.5
Jan Akkerman – Live
Transitory
Skydancer
Pavane
Crackers
Tommy
Azimuth
Jan Akkerman – Jan Akkerman 3
Stingray (Get Up with That)
Wait and See
She's So Divine
Funk Me
This Is the One
Nightprayer
Time Out of Mind
Jan Akkerman – Oil In The Family
Oil in the Family
Formula N-One
Disc-O-Asis
No Doubt About It
Family Reprise
Blue in the Shadow
Jan Akkerman – Pleasure Point
Valdez
Heavy Pleasure
Cool in the Shadow
Visions of Blue
C.S
Bird Island
Atlantean Dew
Laurie's Dance
Angel Blue
Halfway
35 Seconds
Waterfalls of Eden
Desiderata
Terra Pax?!
Guilty By Association
Communion & Procession
Near Odessa
Anne Mia
Jan Akkerman – It Could Happen To You
Old Tennis Shoes
Come Closer
Funkology (Baby Start – One Way – Free)
It Could Happen to You (Free Together)
Jan Akkerman – Can't Stand Noise
Pietons
Everything Must Change
Back to the Factory
Journey (A Real Elegant Gipsy)
Heavy Treasure
Just Because
Who Knows
Crackers
Burger's Blues (Intro)
Prima Donna
Sketches of Pleasure
Headbanger
All Along the Watchtower
Dark Rose
Wallenberg (Dedicated to Raoul Wallenberg)
From the Basement
P.C.B. Chicken
Status Quo
She Let Me Do What I Want
Blues from the Tews
Cherubim & Sepharim
She Can't Say Don't
Part 1 – Took Her to Locronan
Part 2 – Then Rollright Stones (The Tews)
No More Parking
When I Was a Cocktail in a Waitress Bar
Ellington's Way
Jan Akkerman – Heartware
My Pleasure
Just Because, So!
Lost & Found
Heartware
Winterborn, Lyric
Lonely Street of Dreams
Firenze
Apollo's Mask
Dancing in Chains (Not S.M.)
Dompteuse Du Serpent
Fire from Heaven
Almost Dawn
Agony & Ecstasy
Akkermani
Luxemburger
Jan Akkerman – The Noise Of Art
Trojan Horse
You Can't Keep a Bad Man Up
Bonnaville
Shame on You
Having Fun
Prima Donna
Prelude: Friends Always
Akkerman's Sombrero
My Pleasure
Quiet Storm
Jan Akkerman – Puccini's Cafe
Burger's Blues
Your Eyes in the Whiskey
Spanish Roads
Key to the Highway
It Comes and Goes
Albatross
Blue Train
Love Is Uneven
Puccini's Cafe
Jan Akkerman – Blues Hearts
Wake Up!
Blues Route '94
Milestones
Red Pool House Blues
No Gossip
Virgin Mary
Traffic Jam
Mercy, Mercy, Mercy
Soft Focus
Jan Akkerman – Focus In Time
Home Voyage: Intro
Home Voyage: Where Would I Be
Home Voyage: I'll Make It Up to You
Home Voyage: Extro
Saudade
Nail the Snake
Apres Un Reve
Am I Losing You
Wildflower
On the Table
Elegy
Laurie Anne
Leading Me There
I'll Find My Own Way Home
Jan Akkerman – 10.000 Clowns On A Rainy Day
Intro (10.000 Clowns)
Puccini's Café
Skydancer
Eruptions
Focus 2
Pre Madonna
Virgin Mary
Soft Focus
Pedestrians
No Hang Ups
On the Table
Am I Losing You
Wake Up
Focus 3
Weedstalker
Akkerstones
Pool House
Quiet Storm
Jan Akkerman – Acoustic
Suite 1
Suite 2
Mon Amour
Tranquillizer
Classic Gaz / Gate to Europe
Fellini's Restaurant
Passion
Countess of Pembrooks Paradise
Muy Linda
The Knight of the Lute
Whispering / Liebestraum
Jan Akkerman – C.U.
See You
In Between the Sheets
I'm in the Mood
Dance the Blues Away
Cottonbay
Kloenk
Blowing
Slow Man
Urbanstring
Jan Akkerman -Minor Details
Free Wheeling
Big Sir
Dinner Time
Love Train
Blind Baby
Minor Details
Joy
Fernando's Minibar
Kharmah Chantalah
Searching for Angela
As Long As You're Near
San Frisky
The Arrogant Frogs
Mena Muria
Jan Akkerman – My Focus
Johnny And His Cellar Rockers:
Exodus
Melody in F Rock
Russian Spy and I
Brainbox:
Down Man
Summertime
Focus:
House of the King
Le Clochard
Answers? Questions! Questions? Answers!
Love Remembered
Elspeth of Nottingham
Hocus Pocus (Live)
Out of Vesuvius
Hamburger Concerto (Starter – Rare- Medium I – Medium II – w
Jan Akkerman – Akkerarchives
Crackers – Demo
Angel Watch – Demo
Azimuth – Demo
Stingray (Get Up with That) – Demo
A Family in the Oil
Come Closer Demo
General Buckshot & the Blues Waffe
Yoyo Working
Song for the Millennium
Plaisier D'amour
Anonymous 4 Blues
She's Gone
(Visited 338 times, 1 visits today)